PARTNERED HOTELS
HOTEL Gio' Wine Jazz Area
Single Room € 73,00 + 2,00/night Tourist-visitor tax (Breakfast included)
Double Room € 95,00 + 2,00/night Tourist-visitor tax (Half-pension)
HOTEL Fortuna
Single Room € 55 + 2,00/night Tourist-visitor tax (Breakfast included)
Double Room € 65,00 + 2,00/night Tourist-visitor tax (Breakfast included)
HOTEL Ilgo
Double Single Use € 54,00 + 2,00 tourist tax (Breakfast included)
Double Room € 74,00 + 2,00 tourist tax (Breakfast included)
HOTEL San Sebastiano
Single Room € 41,00
Double Room € 65,00
---
How to Reach Perugia
By plane
The closest Airport to Perugia is Rome Fiumicino (about 200 km).
From Fiumicino Airport you can reach Perugia through a direct bus operated by the company "SULGA". From the International arrival at Terminal T3, in order to get to the bus stop, one must turn right and walk straight for 150 meters (follow Bus Station). The bus (track n.8) has the company name "Sulga" written on the side. Is it possible to buy the ticket on the bus. Sulga Timetable is available at https://orariautobus.it/tratte/sulga.html
From Fiumicino Airport is also possible to reach Perugia by Train. The "Leonardo Express" is the non-stop service that connects Roma Fiumicino with Roma Termini (Central station) in 32 minutes, with programmed departures every 15 minutes. Several trains connect Roma Termini with Perugia Central Station daily. For the timetable and information please see the section below.
In Perugia there is a small airport (Umbria International Airport – San Francesco d'Assisi) which is located just outside the city. The most important connections are from London Stansted and Milano Linate.
From the airport San Francesco you can reach Perugia:
– by shuttle buses (800 099 661 – http://www.acap.perugia.it/aeroporto_s_egidio.php)
– by renting a car
– by taking a taxi (TAXI service 24/7: www.perugiataxi.it) directly at the airport.
By train
For timetables and fare information consult http://www.trenitalia.com
Direct trains to Perugia from Rome, Florence and Milan.
When arriving in Perugia, please note that the main station is "Perugia"
(also called "Perugia Fontivegge") – hence do not get out neither in "Perugia Ponte San Giovanni" (a suburb of Perugia) nor in "Perugia Università" (out of town, near the Engineering Department).
By car
A1 highway (Firenze-Roma)
If you are coming from North, take the exit "Valdichiana" and then enter the SS75, then exiting at "Perugia San Faustino" or "Perugia Prepo".
If you are coming from South, take the exit "Orte", then take the E45 and follow the directions to Perugia. Exit at "Perugia San Faustino" or "Perugia Prepo".
---
Political Science Department
The address of the Department of Political Science is
Via Alessandro Pascoli 20, intersection with Via Luigi Vanvitelli, 06123 Perugia.
Navigator: Lat. 43.115301° Lon. 12.385397°
Google Maps: CLICK HERE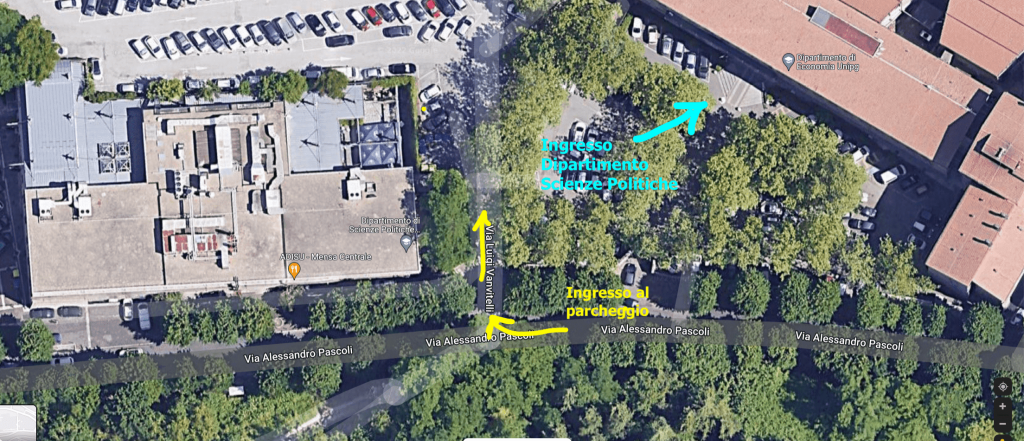 From Fontivegge Station (Perugia main station) the department is reachable by the following bus lines:
-B; P; TS (University's stop name: Porta Conca)
-C (University's stop name: Via Innamorati).